Accessibility for mobility-impaired persons ©
Passages and corridors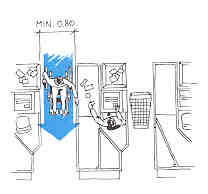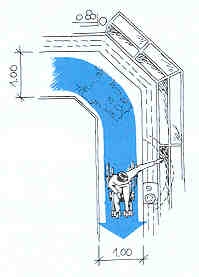 Passages must be wide enough


Doorways: A + B must be equal to 2.00 metres at least .

Free space in front of doorways: C + D must be equal to 1.20 metres at least.


Back to the main handicapped-accessibility page .


---
The above diagram(s) are Copyright material belonging to
Ingenieur-and-Architekten Verband (SIA), Zurich, Switzerland.
Schweiz Invaliden-Verband (SIV), Olten, Switzerland.
Please refer to IMPORTANT NOTES concerning the above diagrams and text.
---